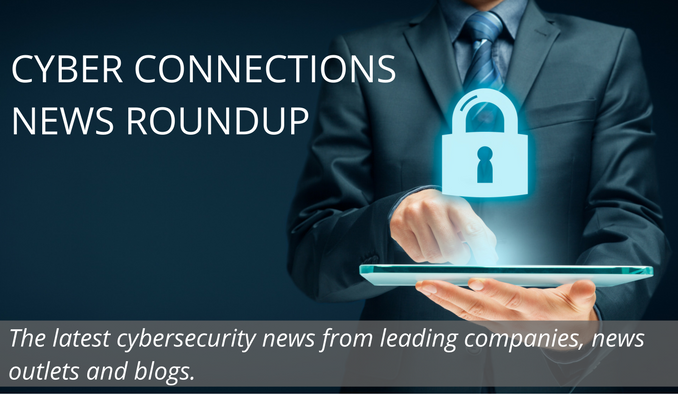 Get the latest cybersecurity news from leading companies, news outlets and blogs.
Cyber Connections News Roundup is a bi-weekly brief of online links to news stories and commentary of interest to the cybersecurity community, delivered on the second and fourth Tuesday of each month. Articles are selected for their newsworthiness, timeliness, potential impact, and reach.
July 24, 2018
What Is the Biggest Risk Cybersecurity Today?
According to a new survey from DataSolutions, it's human error. A recent article on http://www.siliconrepublic.com dives deeper into the survey results, explaining that companies must invest more money in educating employees against carelessness with respect to phishing attacks and other threats that could be avoided through increased awareness and training. Read more.
[Lack of] Cybersecurity Awareness in the C Suite
A recent http://www.securityboulevard.com report examines the disconnect between c-suite executives and cybersecurity. Specifically, the article cites a variety of surveys that establish a failure among business executives to understand that cybersecurity strategy starts at the top. For example, a recent CSO Online report found that "six out of 10 boards still see cyber risk as primarily an IT issue." Read more.
These sentiments were echoed in a recent article on http://www.freightwaves.com where cybersecurity in the trucking industry has emerged as a major issue for carriers. However, it is largely overlooked at the executive level and, when addressed, is only dealt with from a defensive posture. Read more.
Who Is Responsible for Cybersecurity? The CTO or the CISO?
In a recent http://www.informationage.com article, Nick Ismael agrees that today's boards have historically overlooked cybersecurity, instead leaving the issue to the experts in within the organization. Now, however, many boards are finally taking on the issue, but struggling to decide who has ultimate responsibility – the Chief Technology Officer (CTO) or the Chief Information Security Officer (CISO). Read more.
US Army Commissions First Civilian Cyber Officers
James Gusman and Timothy Hennessy have become the first civilians commissioned as officers in US Army Cyber. As reported on http://www.wjbf.com, their commission is the result of the US Army's Cyber Direct Commissioning Program's initiative to begin commissioning civilians as cyber operations officers, something that only happened in the medical and legal fields as well as seminary. The pilot program kicked off in October 2017. Read more.
AT&T Acquires Start-up AlienVault to Boost Cybersecurity Offerings for Businesses
AT&T announced that it would acquire AlienVault, a cybersecurity start-up based in San Mateo, California. AlienVault offers tools that detect and respond to threats through its Unified Security Management platform as well as its online platform called Open Threat Exchange. As reported on http://www.fortune.com, the acquisition will serve to strengthen AT&T's security portfolio for small- and medium-sized businesses. Read more.